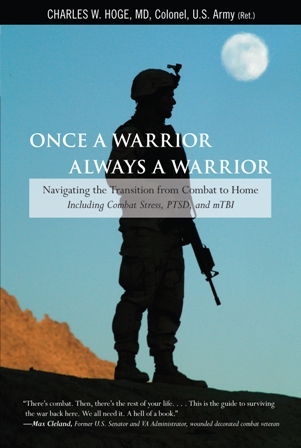 Navigating the Transition from Combat to Home
Already a nationally-known advocate for eradicating the stigma of mental health care in the military, Dr. Hoge now reaches out to a larger community. Not only veterans, but their families, friends, coworkers, and health care providers will welcome this wealth of new insight and practical information.
Here, in easily accessible writing, Dr. Hoge presents the latest knowledge about combat stress, PTSD (post-traumatic stress disorder), mTBI (mild traumatic brain injury), and other physiological reactions to war. Readers learn about the range of self-help and treatment options – including their limitations – and how they can be modified or combined to suit the needs of the individual warrior or family member. Dr. Hoge's compelling message about recognizing the value of combat survival skills will help anyone who wants to more fully understand the experience of service members and veterans.
Once a Warrior—Always a Warrior is for anyone who has ever returned from a war zone (current service members, veterans, government workers, contractors), and describes how to successfully navigate the transition from the war zone — no matter how many days, months, or years have passed. The warrior's spouse, partner, and family members, as well as coworkers and health care providers will be enriched by reading this book.
ForWord Reviews Book of the Year Bronze Medalist (Psychology)
Cover photo by Teun Voeten