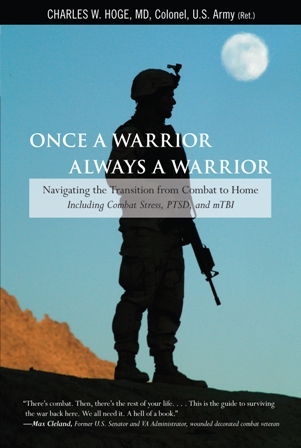 And, returning home can be even more challenging.
In this ground-breaking book, Dr. Charles Hoge explains how transitioning home from combat requires learning how to dial up or down the warrior responses, depending on the circumstances.
What medical professionals label as symptoms are, in fact, valuable combat survival skills, skills that may also be useful in civilian life. Once a Warrior — Always a Warrior explains how a warrior's knowledge and skills are vital for living at peace in an insane world.
"There's combat, then there's the rest of your life. We need survival skills for each battle zone. This is the guide to surviving the war back here. We all need it. A hell of a book. The lucky get it."
— Max Cleland, former U.S. Senator from Georgia, former Administrator of the Veterans Administration, decorated wounded combat veteran of the Vietnam War